Since the first explorers discovered this unknown continent, they've shared stories of incredible vistas, snow covered peaks, massive icebergs and unimaginable wildlife congregations. A highly experienced team of scientists, professional photographers and naturalist guides has been assembled for this unique and exciting expedition. This special exploration will combine years of experience on the Antarctic Peninsula with a scientific focus on marine mammals, in partnership with the American Cetacean Society (ACS). We designed this itinerary to maximize our opportunities to study and watch the whales that inhabit this vibrant and nutrient filled area from the South Shetland Islands to Crystal Sound south of the Antarctic Circle! Happily, here we find some of the best whale feeding grounds in the midst of Antarctica's most stunning landscapes, taking full advantage of the late season's golden light. Landscape photography, time with Humpbacks, Antarctic Minke Whales, and Orcas, coupled with extended visits to penguin and seal colonies will surpass your wildest expectations. Our priority on this special expedition is to give you the maximum field time during a unique period on the Peninsula and to share our passion and experience in the Antarctic with a special scientific component. Come and experience a part of the world unlike any other place on the planet!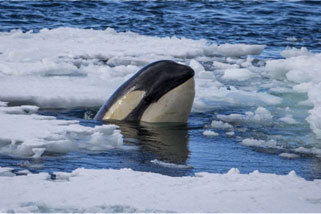 About the Focus of this Expedition.
Longtime pioneer of Antarctic expeditions, Cheesemans' Ecology Safaris  are collaborating with the American Cetacean Society (ACS) to offer this in-depth exploration of the marine mammals of the Antarctic Peninsula. Expedition leader Ted Cheeseman and whale biologist Ari Friedlaender conceived this expedition as an exciting opportunity to share science, education and exploration of one of the most whale-rich stretches of water in the world, at peak whale watching season. At the feet of the stunning mountains of the Antarctic Peninsula, krill congregate in countless numbers, drawing great congregations of whales into seasonal feeding binges on a scale found few other places on the planet. This expedition provides opportunities to travel alongside marine biologists including ACS scientists, to whale watch from ship and Zodiacs, to learn photographic techniques from professional photographers, and to land at wildlife rich and historically significant sites on the Antarctic continent and outlying islands. The itinerary is designed to maximize marine mammal encounters, diverging from the norm of Antarctic cruises in keeping with the Cheesemans' Ecology philosophy of offering the most in-depth expeditions possible. In addition to the whale focus, extensive time will be devoted to exploring and photographing various penguin colonies, assorted animal assemblages, and stunning Antarctic landscapes under the special golden light of extended sunrises and sunsets during this time of the season. This is a trip not to be missed.
At a Glance:
Trip Dates:
March 8th-26th, 2016.
Cost:
$9,995 to $15,995 per person, shared occupancy depending on cabin choice, not including airfare.
Trip Leaders:
Expedition Leader: Ted Cheeseman and a diverse and experienced Expedition Staff of 15 Individuals including myself.
Group Size:
100 Guests. Unlike larger vessels that take larger groups, with 100 guests, everyone will be able to land or zodiac cruise at once, rather than in shifts, thus ensuring to maximum time in the field.
The Ship:
The
Ortelius
. We chose Ortelius for this voyage because she is impressively stable at sea and very capable in ice. The vessel is robust yet still small enough to explore places beyond the reach of bigger ships. The vessel has the highest ice-class notation (UL1 equivalent to 1A) and is therefore very suitable to navigate in solid one-year sea ice and loose multi-year pack ice.
The ship has spacious cabins and large public spaces, including the bridge and outer decks, observation lounge and lecture room. A large observation bar provides the perfect space for passengers and crew to wind down and socialize following dinner.
The spacious bridge is open to passengers and the decks are ideal for photography and watching for wildlife. In the observation bar, you can relax and find a good collection of polar books. Enjoy entertaining lectures on the environment, fauna, history, and glaciology as well as photographic techniques. Meals prepared by an excellent European chef are served in a comfortable dining hall, keeping us warm and full of energy for the next wildlife encounter. Landings are made possible by a small fleet of high quality Mark V Zodiacs with quiet, clean-burning four-stroke outboard motors.
Number of Days:
19 days total - 16 on ship.
Print This!